Telephone Systems
Cost Saving Telephony & VOIP Solutions
Enhance your business communications today!
With our extensively customizable IP based telephone systems, we can…
cut your legacy phone bill by up to 50%.
Telephone Systems with FreePBX is easy to customize and adapt to your changing needs. FreePBX can run in the cloud or on-site, and is currently being used to manage communications of all sizes and types of environments from small one person SOHO (Small Home, Small Office) businesses, to multi-location corporations and call centers. The FreePBX ecosystem provides you with the freedom and flexibility to custom design business communications around your needs.
All features come standard!
Caller ID
Caller ID is a standard Hosted PBX feature which enables incoming calls to be identified by their Caller ID. An incoming caller's ID is displayed on the users phone screen. Similarly, all Hosted PBX extensions can be set to display a certain Caller ID when making outgoing calls. This is useful if a particular phone belongs to a particular department or if an individual wishes to display his/her direct number when placing outgoing calls.
Call Transfer
This essential phone feature allows users to transfer calls from their phone. Calls can be transferred to another user, voicemail, an external number, and other destinations. Call transfers can be done in two distinct ways. The first method is called a Blind Transfer and it will connect two calls immediately. The second is called an Attended Transfer, and this method connects the person making the transfer with the intended recipient first. This gives the transferring user a chance to inform the recipient who is on the line before the actual transfer is made.
Call Recording
Call recording is a useful feature which enables a calling or called party to record a conversation using their phone. Call recording can be set to always record, never record, or record strictly on an on-demand basis. Call recording can be useful for training and/or quality assurance. Some jurisdictions/countries do not allow a call to be recorded without prior consent, please check your local laws before recording a phone call.
Handsets for Standard Networks
Snom 710
is part of a state-of-the-art line of full-featured IP desktop phones for small or large scale deployments in a multitude of business scenarios.Supporting four SIP identities and blending an elegant utilitarian design for high usability with high performance and affordability, the Snom 710 delivers a rich set of everyday business telephony features critical to today's real-time, information-driven business workforce. Blending rich features and assured performance with usability and affordability, the Snom 710 is the right choice for organizations with large business needs but a small business budget.
The Snom 710 -
a standout in its class with superior voice quality, rich features and user-friendly design all delivered at an affordable price.
Four-line backlit B/W display
5 freely programmable function keys with LEDs
Power over Ethernet (PoE)
4 context-sensitive function keys
Localization and much more
Snom 720
phone addresses office users that require excellent audio and a large number of programmable PBX-style keys. It combines a state-of-the-art hardware with the proven snom SIP software.
The Snom 720 -
All in all, the Snom 720 raises the bar for VoIP phones in its class both in terms of voice quality, available features and day-to-day usability.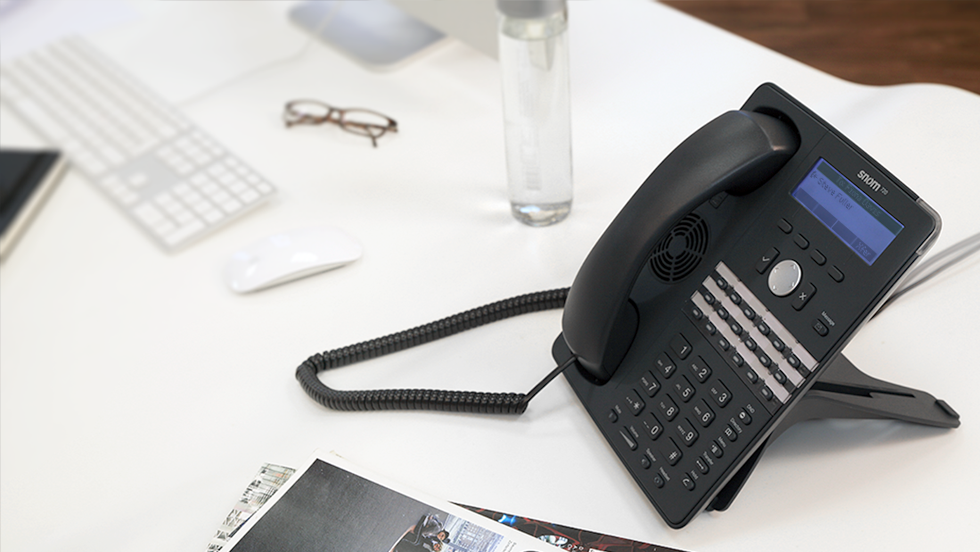 WLAN / Bluetooth Headset ready
Power over Ethernet (PoE)
Snom D715
The D715 provides high-speed connectivity thanks to its Gigabit Ethernet switch.
The USB port on the D715 enables greater flexibility and functionality for the use of USB headsets, the D7 Expansion module, or WiFi.
The Snom D715 -
In a nutshell, the D715 is the perfect combination of features and affordability.
Four-line backlit B/W display
5 configurable function keys with LEDs
Power over Ethernet (PoE)
Snom D725
With a total of 18 freely programmable multi-color function keys in three rows, D725 users have a complete overview of all calls at their fingertips.
The Snom D725 -
Up to twelve SIP identities make the D725 an ideal candidate for intensive phone-use environments.
18 multi-color function keys
For a free quotation and demo.